Personal Injury
Recent $3,250,000 Personal Injury Settlement
You Deserve to Be Compensated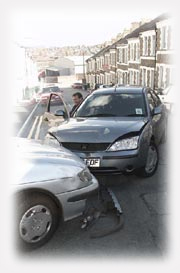 If you or a loved one have suffered an injury, the Law Office of Brian T. Goldenfarb can be of service. I realize that sustaining a personal injury can be devastating and affect all aspects of a person's life. I understand the physical, financial and emotional stress that an injury or accident can place on you and your loved ones. The Law Office of Brian Goldenfarb is here to help people put their lives back together. Being an experienced personal injury attorney, I have represented both plaintiffs and defendants in personal injury matters. I understand exactly what defense lawyers may argue in challenging you. Having the experience, knowledge and the desire to aggressively fight for my clients has shown to be successful in their matters. I have represented accident victims in personal injury matters that have occurred in Middlesex County, Monmouth County, Mercer County and Somerset County. I have three offices locations in East Brunswick, Woodbridge and Princeton. I am here for you to answer all of your questions and address your concerns.
Recent $3,250,000.00 Settlement!
In a recent case, I represented an individual who was struck by a "box truck" while attempting to change a flat tire on the side of the roadway. Following this accident, the vehicle that struck my client, left the scene. Through countless hours and hard work in fighting for my client, I was able to help him prevail in his matter. Ultimately, his matter settled for $3,250,000.00. Obviously, all cases are different, but the one thing that remains the same, is my dedication to my clients, and my desire to aggressively fight for them. A person should not suffer for the harm that someone else caused.
Have the Right Attorney Fighting for You
When a person is injured, whether in a car accident, truck accident, slip and fall accident, motorcycle accident or suffer any other kind of personal injury, everything can change. As an accident victim, you certainly deserve to be compensated for the harm that someone has caused. Whether you have questions about medical bills, insurance coverage, wage loss or personal injury, I have the experience and knowledge to be of service to you. Do not let the insurance company tell you what they think that you should do. You deserve to have someone looking out for YOUR interests, protecting YOUR rights and helping you obtain maximum recovery for the injury that you sustained. With my personal assistance, I can help you and your family begin the healing process.
At the Law Office of Brian Goldenfarb, you will not be shuffled around from person to person. Having the "right" attorney on your side is only to your benefit. I will personally handle your matter from start to finish. As you did not ask to be hurt and harmed by someone else, you certainly deserve to be compensated as much as possible for all of the injuries and pain that you have suffered. My clients are entitled to be compensated for their past, present and future pain and suffering that they have been forced to endure. I am here ready to fight and get you the compensation that you are rightfully entitled to.
Call (732) 321-9100 today for a FREE consultation
and speak directly to Brian.