Family Law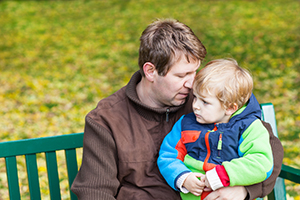 Family is probably the most
important thing in a person's life. Your own children are at the top of the
list when it comes to things that people care about the most. I understand how
important family is and the issues that a person may face when dealing with family
related matters, divorce situations, child support and custody. Being an attorney
that practices in family law and matrimonial matters, I have successfully
represented many people with various types of family law related issues. Whether
the matter involves:
Divorce
Child custody
Child support
Parenting time
Alimony
Enforcement orders
Modification motions
Other related matrimonial issues
I have the compassion, experience, knowledge and aggressiveness to
"fight" for what you believe in and what is important to you.
I am certainly sensitive to the fact that these matters can become quite personal,
as they often involve children, finances, money, personal assets and your home.
Having offices in Princeton, Woodbridge and East Brunswick, I have represented many
people in Family Court in Somerset County, Mercer County, Middlesex County and
Monmouth County.
I am fighting for you and your family!
I have appeared in many Courts in helping my client's fight for not only
themselves, but also for their loved ones. I have handled straight forward matters
and also matters where the parties had great difficulty in getting along and
communicating with one another. While aggressively fighting for you, I understand
that it is always in your best interest to attempt to resolve these issues quickly,
practically and in a cost effective manner. With that being said, I am certainly
ready to fight and go to court, if necessary, to get you what you and your family
are entitled to. Knowing how to deal with people and negotiate on your behalf, is
half the battle. Whether the other side has an attorney or is unrepresented (pro
se), I certainly utilize my years of experience and knowledge in matrimonial and
family law in obtaining the best possible results for my clients.
I
am here as your attorney where you will be treated like a friend!
As I know that your case is extremely important to you, it is equally as important
to me. I will provide you and your family with the time and attention that your
matter requires. At my office, due to the personal nature of your case, I will be
handling your matter myself. Your matter will not be handed off from person to
person or from attorney to attorney. I will treat you with the respect that you
deserve and you will never be treated like a number. I am here for
you as an attorney and a friend. You certainly deserve not to get
"bullied" by the other side. I am here to help you "even the
score." You are entitled to know all of your rights, the law and the many
possible outcomes for the issues which you are dealing with. I am here to help
assist you and your loved ones in getting your life back in order. Let me help you
resolve your matter as quickly and painlessly as possible.
Call
(732) 321-9100 today for a FREE
Consultation.